To kick off this wonderful reading challenge, I chose Memoirs of A Geisha by Anthony Golden.

My main reason for choosing it as the first book is because I've read it before, and I've seen the movie. But, I read it when I was a sophomore in high school (which was like FIVE whole years ago), so I definitely need a refresher.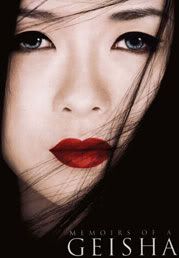 I also chose it because it just so happens to be on my book shelf. I didn't even have to make the five minute walk to the library (yeah, I've been really lazy lately).
I do remember a the basic plot of the book, and a also a few odds and ends, but I can't remember every detail. I don't remember if I had a favorite part in the book, but I'm sure that I will find one. I know that I did enjoy Memoirs when I first read it. I feel that now that I'm a little older, I'll be able to better understand some parts of the book.
This time, I'm really looking forward to really digging in and trying to understand what Chiyo (later Sayuri-her geisha name) is going through during her journey to becoming a geisha and after.
The reviewers on Amazon gives the book 4.5 stars out of 5, so I know that this book is a favorite across the board.
In case you've never read the book or seen the movie, here's the synopsis on the back of the book that I own (it's a paperback with the movie poster image on the front, like in the picture above):
"In Memoirs of a Geisha, we enter a world where appearances are paramount;
where a girl's virginity is auctioned to the highest bidder; where women are trained
to beguile the most powerful men; and where love is scorned as illusion. It is a unique
and triumphant work of fiction--at once romantic, erotic, suspenseful--and
completely unforgettable"
I expect to be done reading this by at least Monday evening or Tuesday morning, but I don't want to put a time limit on my reading. I will keep you guys posted on any new words I learn or quotes that I love throughout my reading.

If you've read the book before, e-mail me at: tayirl[at]hotmail[dot]com. I'd like to know what you think of the book. I may even use your reviews in my review entry of the book.

If you have not read the book before and would like to join me in reading it, just head down to your local library or bookstore to pick it up, and then start reading!